WWI Monuments
The Stories Behind Kansas City's WWI Monuments
Rosedale WWI Memorial Arch
They went with songs to the battle, they were young.
Straight of limb, true of eye, steady and aglow.
They were staunch to the end against odds uncounted,
They fell with their faces to the foe.
They shall grow not old, as we that are left grow old: Age shall not weary them, nor the years condemn. At the going down of the sun and in the morning, We will remember them.
World war I (WWI), also known as "The Great War" or the "War To End All Wars," lasted precisely four years, three months, and 14 days beginning July 28, 1914, and ending on November 11, 1918. WWI was triggered by the assassination of the Archduke Franz Ferdinand of Austria and his wife, Sophie, along with differences over foreign policy, a tangle of alliances, and territory. Known to be one of the largest and most deadly conflicts to date, more than 30 nations and 135 countries declared war throughout those four years.
The majority of countries joined the Allied forces of Serbia, Russia, France, Britain, Italy, Japan, Belgium, Greece, Portugal, and the United States, against the Central Powers of Germany, Austria-Hungary, Bulgaria, the Ottman Empire, and Turkey. Due to the war's catastrophic destruction, WWI altered the world's social, cultural, economic, and political landscape. Over 20 million people were killed in, or because of, World War I. More than 116,000 of those casualties were American, and at least 436 were from the Kansas City area.
WWI raged on for nearly three years before the United States officially became involved. Following a series of apprehensible provocations, including the sinking of the British liner, RMS Lusitania, that killed 128 Americans, Germany's campaigning of Mexico to join forces, and the sinking of seven U.S. merchant ships, the United States could no longer remain neutral. President Woodrow Wilson declared war on Germany, April 6, 1917, and by June, the first U.S. troops were deployed overseas.
That September, the United States suffered its first casualty of war with Lieutenant William Fitzsimons, a 28-year-old doctor serving at the American Army hospital with the British Expeditionary Forces in France. U.S. military wartime deaths continued until November 11, 1918, a day recognized as the end of WWI. We also know this day to be called Armistice Day. Years following WWI, governments in the conflict signed treaties and passed resolutions signifying an official end to The Great War, thus restoring peace throughout the world.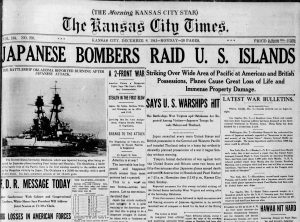 Following the war, memorials commemorating the events and casualties of WWI were erected throughout the world. In the United States, there are over forty World War I monuments and memorials that were constructed between 1918 and 1941, 13 of those are here in Kansas City, and The National WWI Museum and Memorial. After the war ended, Kansas City leaders formed the Liberty Memorial Association (LMA) to create a lasting monument to the men and women who had served in the war. In just ten short days, the LMA and Kansas City citizens raised $2.5 million, the equivalent of more than $25 million today. The site was dedicated in 1921 by Allied leaders in a historical event. All five Allied commanders were together in one place for the first time in history. Read more about The Liberty Memorial here.
MONUMENTS
The Kansas City metropolitan area includes several memorials dedicated to specific individuals, to those who served; others specify certain groups, such as the American War Mothers and honorary military personnel from multiple U.S. wars. Additionally, WWI monuments are also in neighboring communities, Kansas City, Kansas, Blue Springs, and Liberty, Missouri. Temporary markers are commonly placed at these locations from September through November 11 in commemoration of Armistice Day.
Many war memorials' designs followed classic styles of the late 19th-century, each narrating a tragic yet comforting and noble remembrance. Others used Art-Deco styles to communicate the varying themes of war. In contrast, others portrayed symbolic characteristics of self-sacrifice, death, and victory. Common features include grand arches, fountains, buildings, and due to WWI, memorials now bestow lists of fallen names. Some include eloquent quotes etched in stone or cast in bronze, and some express their sentiments in sculpture.